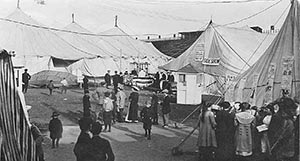 General view of a circus.
Six Black men were immediately arrested by the Duluth Police and held in the Duluth city jail, located inside the police station on the corner of Second Avenue and Superior Street. Already reported in the local newspaper, news of the alleged rape spread rapidly. That evening a white mob estimated between 1,000 and 10,000 people gathered on Superior Street outside the police station. They met little resistance from the police, who had been ordered not to use their guns.
Citations
Chicago Evening Post quoted in "Minnesota's Disgrace," The Appeal (St. Paul, Minn), 19 June 1920, p 2.
"The Duluth Disgrace," Minneapolis Journal, 17 June 1920, p. 18.
"Duluth's Sad Experiment," National Advocate (Minneapolis, Minn), 3 July 1920, p. 1.
"The City's Shame," The Duluth Ripsaw, 26 June 1920, p. 2.
Ely Miner, 18 June 1920, p. 4.
"The Duluth Tragedy," Mankato Daily Free Press, 17 June 1920, p. 6.
"Superior Police to Deport Idle Negroes At Once," Duluth News Tribune, 17 June 1920, p. 1.